Capitol Reef National Park, UT: Hiking Information
Easy
If you have more time than just a quick drive through (or a ride on the shuttles where they are present), you might want to stop and do a little hiking. Always be prepared and take some water with you.
Moderate
Many trails are longer, harder and may have more drop offs. When hiking these you may want to check with the visitor center on current conditions. These hikes are one to two hours long.
Strenuous
These trails are moderate to strenuous hikes. They can be very steep and have narrow canyons. Each of these takes three to four hours (or more). It is best to take your time climbing and to watch your step.

Easy
Capitol Gorge
Miles: 2 mile round trip
Easy, mostly level walking along narrow wash bottom with sheer canyon walls plus Pioneer Register and waterpockets or "tanks".

Goosenecks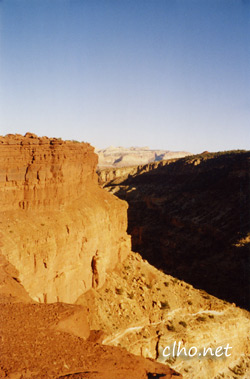 Miles: .1 mile one way

Sunset Point
Miles: 2/3 miles round trip
Panoramic views of cliffs & domes; dramatic lighting at day's end
Moderate
Cohab Canyon
Miles: 1 3/4 one way
Strenuous for the first 1/4 mile, then moderate; climbs to a hidden canyon with spur trails, overlooking Fruita.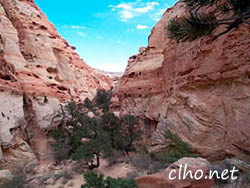 Hickman Bridge
Miles: 2 miles (3.3 km) round trip

Sulphur Creek Route
Miles: 5 one way
Moderate to strenuous if the best way to describe this hike. You start and one side and end up at the visitor center. This hike will take you walking along the bottom of the Goosenecks. You must check with the visitor center before doing this hike because of problems with flash flooding. This will take 4 to 5 hours to hike.
Strenuous
Chimney Rock Trail
Miles: 3.5 Round Trip
This is a strenuous hike at first that leads to a moderate hike near the top. This is a round trip hike. It can take from 3 to 4 hours. It has wonderful views of the canyon floor below. During this hike you go up 600 feet.

Golden Throne
Miles: 2 miles one way
Climbs from bottom of gorge to top of cliffs and ends with a view of the base of Golden Throne; panoramas.

Navajo Knobs
Miles: 4 1/2 (one way) 9 miles round trip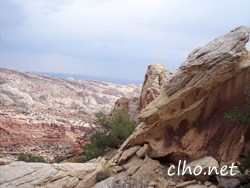 Rim Overlook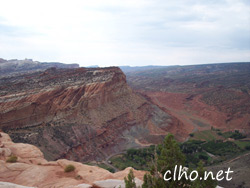 Miles: 2 1/4 one way - 4 1/2 round trip
Ends on top of 1,000 foot high cliffs with views of the orchards, campground and south.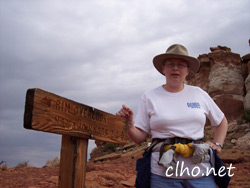 Spring Canyon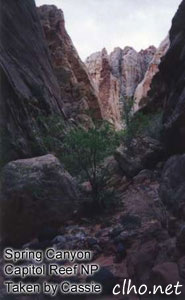 Miles: 9 miles one way
This is a short strenuous climb at start the moderate. This is a long hike be prepared to take all day to do this hike. You will need to find transportation at the end of the hike. This is a one way trip. At the end of the hike you will need to cross the Fremont River to Highway 24.