Arches National Park, UT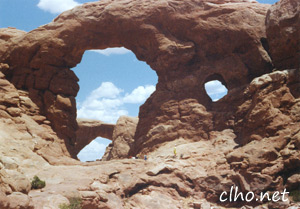 Location:
Arches National Park
Moab, UT 84532
Arches National Park is a great monument to the resistance to weather of all kinds. The park harbors over 200 natural arches, without a doubt the world's largest collection all in one place. The park is well known in movies as well as for its Famous Delicate Arch. It is a sight to behold.
Basic History
Arches noticed in the 1920s. There were many people that noticed it and passed it around. Then in 1929, was set a side as a National Monument by President Herbert Hoover. The size of the monument changed over time. It was diminished and then enlarged. It was in 1971 with President Richard Nixon made Arches a national park.
As for other history…there was at different times many different people who lived in the Arches area. None have lived there long. The Anasazi one roamed the area, but did not stay to long. There is only one person of note that lived there for very long was John Wesley Wolfe. He was a disabled Civil War veteran. He build a rach there in 1888. No one really knows why he choose this place. But they ran their ranch for 20 years. The log cabin from it remains as best as it can be kept.
After Arches was a monument, Edward Abby came to live there. He was a ranger in the park. The best way to learn about him is to read Desert Solitaire. It explains some of the harnesses of the desert area. This was in the 1950s.
The park has changed greatly over the years. Been through many changes. But no change so great as seeing the seasons pass in the park.
Scenic Drive
There is nice guided tour for the cars in the park. It stops at certain spots along the way. It gives you a nice view of the park while giving you some nice things to see. This 48 mile-round-trip leads you to all the major sights of the park. Which I think are well worth seeing at least once.