Arecibo Observatory, Puerto Rico
Location:
Arecibo Observatory
HC03 Box 53995
Arecibo, Puerto Rico 00612
Located deep within the island of Puerto Rico Arecibo Observatory is site to see. Hidden within the mountains and deep valleys it is a wonder see. The giants radar hidden until you are almost upon it. The white panels of the dish stand out from the vast greenery around it.
General Information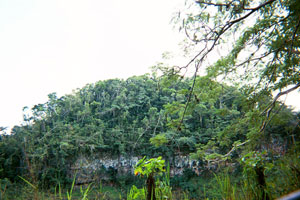 The short 500 steps to the museum where you can look out over the telescope. It is an amazing view. Once at the top of the steps you can see the telescope. There is a museum that has information about the telescope and details about the surrounding area. There is a brochure for the museum and information about what you can find once you get there.
I suggest taking full advantage of everything they offer at the museum. It is well worth the time. If you drive up the road, why not enjoy al you can. It is an amazing view to look across the telescope and see what they have around you.
In the museum they offer various displays to learn more about how the telescope works and what they use it for on a daily basis. You can also play with miniature models of the telescope. There are a few teaching items about space and sounds and light as well. Each item teaches you something about the telescope and it purpose.