El Morro - San Juan, National Historic Site, PR
Location:
San Juan National Historic Site
Fort San Cristobal
Norzagaray Street
San Juan, PR 00901
A view from a plane flying into Puerto Rico see the past coming alive with the Fort on the port opening. Standing like a rock on the edge of the ocean guarding the way in. What was once used for protection is not protected itself.
General Information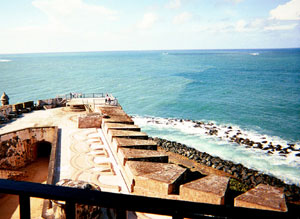 El Morro is located deep in Old San Juan. It is a short walk to it location. It has been restored to its original status of the 1800's when it was used for protection from invading peoples. The Fort stands now at the entrance of the Bay to San Juan. It is stands in grander as ships come and go through the area.
El Morro was built to help protect people as a result part of the walls from the fort spread into the city around it. It those walls still stand today and are a great tribute to the past of San Juan.
A top of the fort stands a Light House, which is still used today. As you walk around the fort you will see various things that were used in that times. There is a chapel inside the fort that still has the benches and the pictures inside of it. Restored to the beauty it once was. It is now one of the numerous light houses around the world that people come to see.
History
During WWII this fort was used by the United States to protect the port from submarines and having the island attacked. The area around the area for that is now grass housed all the US soldiers that were a part of the troops stationed there.