Grand Staircase-Escalante National Monument, UT
Location:
Escalante Visitor Center
755 W. Main
Escalante, UT, 84726
Grand Staircase-Escalante National Monument is a collection of varying things through out the area that is covers. There are many plateaus and canyons to explore. Not all are seen at first glance either. This is an area to explore and one of wonder that is full of history.
General Information
Grand Staircase-Escalante National Monument covers 1.7 million acres of land in southern Utah. This park came into being in 1996. There are different visitor centers for this park: Escalante (Theme: Ecology & Biology), Kanab (Theme: Archaeology & Geology), Big Water (Theme: Paleontology & Geology) and Cannonville (Theme: Human Geography). As you can see each visitor center highlights different parts of the park.
Calf Creek Falls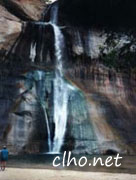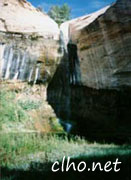 Calf Creek Falls located a short distance from the town of Escalante. Divided into Upper and lower falls. They are a good distance from each other. Lower Calf Creek falls is the larger of the two falls and is the most visited. There is a pamphlet that you can buy for a guided tour of the walk to the lower falls. It will cover the wildlife and the few of the facts about the past of the area. Well worth buying and reading along your walk. At the end of your journey if you feel you donít want the pamphlet any more please put it back where you got it.
Upper Calf Creek Falls is short drive from the lower falls entrance. It is a slightly short hike and is very different from the lower falls. There is not a guided tour for this but there are two trails: one that goes to the falls below and one for above the falls. It is a small falls by comparison but has its own beauty. You can feel a light spray as you approach the lower falls. Be sure to hike the upper falls in the morning.
Hole in the Rock Road
This road is named for the end of road where there is a long trail down to what is now Lake Powell. The road is about 50 miles long. It was made by the pioneers that were traveling to settle another area. They traveled only a few miles each day. Each night they could see where there they had started in the morning. Such as it was for a long ways. After many days of traveling they stopped at what is now called Dance Hall Rock. It was here, they celebrated their making it so far, that only lasted so long. Soon news of what awaited them came. The road before would seem like a picnic compared to the trails that awaited them. The road was a hard and would take them many more days to travel it.
If you take this road stop at Dance Hall rock and see the names of those in the company that were traveling. After passing dance hall rock look for the marks that were made by the wagons as they covered the area to reach their goal. When you finally reach Hole in the rock and you are over looking Lake Powell, think of the wondering and how much further they have to take the wagons down the slot in the wall. Take a walk down the slot to see just how hard of a time it may have been, look for the marks of the wagons made.
Devils Garden
Located just off the Hole in the Rock road, about 12 miles in. It is a great area for just exploring things. It has many small natural arches and brides located in it. There are no trails for this area. So exploring is left up to you. This is a great area to be in during a full moon. It makes for a nice time of exploring under the moons light and brings a new wonders to the rocks in that area.
Peek-a-boo and Spooky Gulch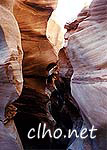 Two slot canyons right near each other. Those that do not like confined places should not enter them.
You will find peek-a-boo a very interesting, and complex twists for a small slot canyon. You can go up or down this slot canyon. I would suggest going down it rather than up. While in this slot canyon you will find many different types and shapes of the side walls. If you even are looking careful enough you will find a few natural bridges. Be sure to have LOTS of film for this hike!
Spook is a Ĺ a mile down the canyon. It may take a bit to find but it is a nice narrow slot canyon. Most of your way through this slot canyon you will have to turn sideways. It is needed to make it through some of the tight spots. If you find you canít get through one spot then donít try and go on forward. Stop there and turn around, because there may be tighter spots ahead. You would not want to get stuck in this slot canyon.