Hovenweep National Monument, UT - CO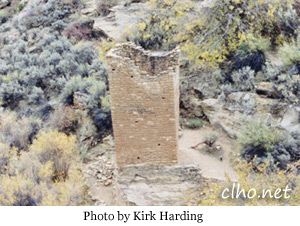 Location:
Southeast Utah and Southwest Colorado
Visitor Center
Cortez, Colorado
Hovenweep National Monument located between Colorado and Utah. Various ruins scattered between 784 acres. This is area represents the Pueblo farming villages over 700 years ago.
General Information
Hovenweep (a Ute Indian word meaning "deserted valley") contains six groups of prehistoric Anasazi Indian Ruins circa A.D. 400-1300. These include the remains of coursed-stone masonry pueblos, small cliff dwellings, and large quantities of scattered ruins. Hovenweep National Monument was established in 1923. It consists of six units of ruins located on 784 acres. These prehistoric sites represent the cultural climax of Pueblo farming villages over 700 years ago.
Hovenweep is best known for the Square ruins that can be seen in Little Ruin Canyon.. The ruins are some times miles apart. Often times all that remains of these ruins is stone piles or small walls. There are still some that are very well preserved. Each ruin is very different and offers a unique view on the area that once was.
Location
Hovenweep National Monument is located along the border between southeast Utah and southwest Colorado, just north and west of Cortez, Colorado. Paved roads lead from both Cortez, Colorado and Blanding, Utah. Some roads in the area remain very rough and may be impassable in stormy weather.