Cassie's Other Interests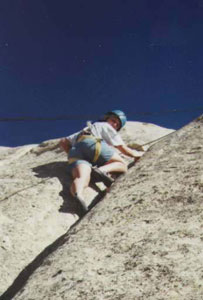 Okay there are lots of other things I do besides Hike. I have gone to school and done many other things. So here are a list of things that I like to do.
Rock Climbing
I have not done much climbing in my life. But I rally like the little that I have done. I would do more it I had the time. But I always seem find time to do it every once in a while. Mainly now it is going to the indoor places.
Kayaking
I have done a little of this as well. I learned how to in college and I love to try out new things when I can. I can roll on my right and my left. I learned how to roll one way... and now I have learned many different ways to roll. I can't wait to get out and try it on the open water.
Down Hill Skiing
Snow skiing is so much fun. I love the winter. When I was younger I used to go sleding all the time. It is fun to look down a slope and see the bottem and head down as fast as you can.
Cross Country Skiing
This is a kind of skiing that I also like. It is different from down hill. But you can down hill in Cross Country Skiies. It is called Telmarking. I love to trade off Down Hill and Telamarking. So that I get good at both. But it is fun to ski off the beaten path and ski to an area that most people don't see in the winter.
Quilting
I have been quilting for years. I love to quilt. I learned when I was younger. The first quilt that I made was for my bed. It stayed there for years. After that one quilt I made many others. I enjoy to quilt when I have the time and the space.
Reading
If you would have told my parents when I was younger that I would love reading, They would have laughed. wow do things change. I am reading about 50 books a year now. I try to at least read 5 new authors and not all one kind of books. My taste range to many different things. Check out my books page to see more of what I like.
Design Work
I still do some small design work on the side, not as much as I did, but some at least. I enjoy doing it a lot. It gives me pleasure to see my work done and people enjoying it.