My Religious Beliefs
Religion is one of the most miss-understood things in the world. There are so many out there and most often people assume things before they really think about what they are saying. I believe that Religion is one of the most important things in our lives. It is a thing of hope and faith. But it is also something that you have to really believe in. If you say you are something yet donít follow your beliefs then you are doing no good nor are you being an example to others.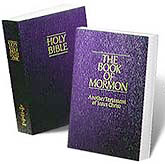 I believe that example of what you are and what your religion is the most important. I am a member of The Church of Jesus Christ Or Latter Day Saints. It is most often referred to by the slang term "Mormon". Mormon comes from the "Book of Mormon". The book of Mormon is another testament of Christ. For a brief introduction to the book click here.
My faith is one of great important to me, and not something to be taken lightly. I believe that all people have a right to believe what they want. But I also believe that if you ask a question of me. Iíll try to help answer it the best that I can.
Articles of Faith:
It was once asked to Joseph Smith what the Church of Latter Day Saints believe in. His Response brought about the following. These are called the Articles of Faith. Click here to read them.
My Favorite Scripture Passages:
Moroni 10:3-5

3 Behold, I would exhort you that when ye shall read these things, if it be wisdom in God that ye should read them, that ye would remember how merciful the Lord hath been unto the children of men, from the creation of Adam even down until the time that ye shall receive these things, and ponder it in your hearts.
4 And when ye shall receive these things, I would exhort you that ye would ask God, the Eternal Father, in the name of Christ, if these things are not true; and if ye shall ask with a sincere heart, with real intent, having faith in Christ, he will manifest the truth of it unto you, by the power of the Holy Ghost.
5 And by the power of the Holy Ghost ye may know the truth of all things.
James 1:5-6

5 If any of you lack wisdom, let him ask of God, that giveth to all men liberally, and upbraideth not; and it shall be given him.
6 But let him ask in faith, nothing wavering. For he that wavereth is like a wave of the sea driven with the wind and tossed.
James 2:17-18

17 Even so faith, if it hath not works, is dead, being alone.
18 Yea, a man may say, Thou hast faith, and I have works: shew me thy faith without thy works, and I will shew thee my faith by my works.
Isaiah 1:18

18 Come now, and let us reason together, saith the LORD: though your sins be as scarlet, they shall be as white as snow; though they be red like crimson, they shall be as wool.
Church Related Links: