Capitol Reef National Park, UT
Location:
Capitol Reef National Park
Torrey, Utah 84775
Capitol Reef National Park named for the reef like sandstone through out the park. A group of mariners named it that also for the barriers that it presented in traveling through the area. The contrast difference in this park from the others in the area truly makes this an original area. The North is completely different from the very south. It still holds mystery and surprise around every corner of the park.
Hiking Information
Basic History of Capitol Reef National Park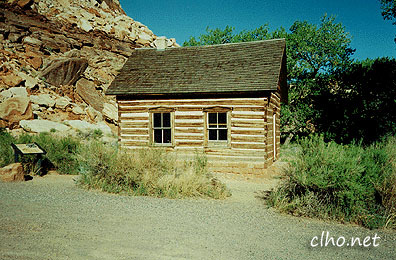 Capitol Reef is part of a wrinkle in the Earth's crust stretching 100 miles and called the Water pocket fold. The first people to live in this area were ancient Indians known to modern explorers as the Fremont Culture. They lived along the Fremont river sharing the wilderness with the Anasazi. The free flowing river provided a place for the early Indians to fish, hunt and grow corn, beans and squash for more than 1,000 years. When the ancient people disappeared they left painted and etched art work upon the rocks and canyon walls which can be seen today.
Later nomadic Utes and Paiutes hunted throughout the Waterpocket fold country. Explorers, Mormon pioneers and others began to make their way into the valley of the Fremont in the late 1800s. They came to raise their families and planted orchards which are still producing fruit in abundance.
Capitol Reef became a national park in 1937, the farmers and their families moved away, but the heritage of these pioneers is preserved in an old log schoolhouse where socials, dances and church meetings were once held. Other buildings remain as a reminder of the people who once lived there. A narrow rocky travel route called Capitol Gorge, cuts through the fold. Upon one rock wall is written the names of miners, settlers and others who from 1871 made their way through the canyon pass.
Scenic Drive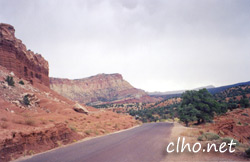 When the Indians first viewed the multi-colored cliffs of Capitol Reef, they called it the "Land of the Sleeping Rainbow". The landscape's diversity of beautiful meadows, lush green valleys, and Alpine forests make Wayne County stand out in the state. The summers are mild and the autumn brings in some incredible color contrasts. Cactus and other wild flowers give such color and life to the desert. There are a number of scenic roadways which take you to many corners of the Capitol Reef . This park has some of the most scenic drives in the nation. Come to Capitol Reef and experience the massive domes, twisting canyons, and colorful cliffs for yourself.