Longfellow's Wayside Inn, MA
Location:
Longfellow's Wayside Inn
72 Wayside Inn Road
Sudbury, Massachusetts
Restoration of one of the country's oldest operating inns, made famous by the poet's "Tales of a Wayside Inn". With fine food and old atmosphere the inn is a wonderful place to stay as well as to eat. This gives you an old style view of a few hundred years ago.
General Information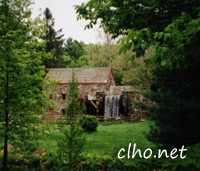 Immortalized in 1863 by Longfellow in his "Tales of a Wayside Inn", this National Historic Site is the oldest operating inn in America. The Inn is situated on more than 100 landscaped acres in Sudbury, Massachusetts, just west of Boston. Eight generations of travellers have found food and lodging for "man, woman, and beast" at this inn, and it looks today much as it did 280 years ago -- and is still supplying travellers with hearty food, drink, a comfortable bed, and even a livery, should one need it. Henry Ford bought the inn's surrounding acerage in 1923, and since then the historic area has been preserved. There are many dining areas, and a wonderfully authentic tap room.
The inn received its name when, in 1862, Henry Wadsworth Longfellow, distraught over the tragic death of his wife, took the advice of his publisher and rode from his home in Cambridge to the Old How's Tavern in Sudbury. Longfellow needed relaxation and inspiration; he had not written since his wife's death. Longfellow wrote in his journal:
"A lovely valley, the winding road shaded by grand old oaks before the house ... an inn for over one hundred seventy-five years."
The inn must have inspired him; his forthcoming "Tales of a Wayside Inn" forever changed the name of the old tavern to "Longfellow's" Wayside Inn. This venerable old inn continues today as an inn, restaurant, and museum.