My Personal Information
Cassie Osborne
Height: 5' 5.5"
Weight: 165 (or there about)
Eye Color: Hazel or Gray
Hair Color: Blonde (100% natural)
Age: 35
Job Title: Mother
Employeed by: Me
Hobbies: Walking, Hiking, Backpacking, Quilting, Cooking, Reading, Watching Anime
Childhood
I grew in up in a small town in Utah. What is small you ask? I answer you with: 2,000 people for a population. It is centered between St George and Salt Lake City. It is a very rural area with no major development around it. The nearest mall for those wondering is about 120 miles away and Walmart or K-Mart type store is about 80 to 90 miles away. So it really is in the middle of nowhere.
During my childhood growing up there were many things that happened in my family: fires, medical stuff, fun hiking trips and fishing.
College Life
After graduating from high school and continuing with my education, I went to Snow College. I got an Associate Degree is Social Science while I was there at the 2-year school. I started my degree in Physical Education there.
The summer between going to Snow College and going to Southern Utah University I met my future husband while working in New Mexico at Philmont Scout Ranch.
After that summer I started my schooling at Southern Utah University where I finished my Bachelors Physical Education with a minor in Spanish (of which I don't remember much of now). After finishing my college schooling on June 7th, I then got married.
Married Life
Paul and I got married on June 21, 1997. It was a beautiful wedding. It was held on my parents' neighbors' yard. It was a perfect day. Nothing went wrong (other than forgetting the wedding certificate up the street). To see pictures of our wedding click here.
After being married Paul and I moved to Concord, California. Why you ask? Because Paul was on a one year internship there and he was only 6 months through it. So I had the dis-pleasure of living there in one of the worst areas (or really street). It was a great eye opening experience for me as to what the world was like, since I had grown up in a small town.
At the end of the 6 months we moved to Massachusetts and here is where we are staying for now. We have lots of friends and love it here! The only thing we would not repeat in our marriage is a cross the US trip in a rental Truck.
Home Owners and Fuzzes
We have moved three times since we moved to Massachusetts. In 2003 we bought a townhouse and are loving it! In June of 2003 we got us two kitties (IE Fuzzes)! Their names are Setesh and Osiris.
Poor Osiris had to have one eye removed in 2007 because it had cancer in it. So now we have one fuzzy with One eye.
We have learned the joys of owning your own place. It has been fun but a challenge.
Motherhood
In November of 2005 Rose Carol was born to Paul and I. We are all a very happy family right now. It has been a joy to have her in our home. She is growing like a weed and I'm sure will continue to be like that always. Rose just currently got through most of the potty training stage, just after she turned 3.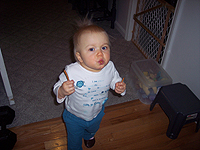 In September 2007 Amelia Kathryn was born to Paul and I. We have a small group of us now. Amelia is growing much faster than her sister did. Amelia eats just about anything she can try. We are sure she will pass up her sister.
In February 2010 Mary Ruth was born to Paul and I. Mary walks and talks and is moving all around. She keeps everyone guessing and eats everything.
I have started to do some small time homeschooling with the girls. That keeps me busy and always looking for things to do with the girls.
I have been spending part of my free time watching anime and reading books. I have a goal to read 50 books each year, which is a challenge with two girls. I try to keep up to date with anime as much as I can afford or rent. I love having the challenges in my life that I can have.
I do spend time on sparkpeople.com, facebook and livejournal. I don't have as much free time as I once had. The three girls keep me busy.
I will try and update this when I can. To find out more information on me check out my livejournal.
Design Work
I still do some small design work on the side, not as much as I did, but some at least.
Other information to check out: